As you may know I enjoy writing about creativity and about Jesus Christ on this site.  So I want to share a project I have been working on for about 4 months… I am writing a book that is a a revelation of Jesus Christ as the most creative force in all of the universe.   In this book I will attempt to reveal Christ as the creator AND as the source of all human creativity.
Part of this book that I am particularly excited about includes a chapter where certain aspects of Jesus Christ are revealed in first person, for example we know the many names for God found in scripture, and we can find in scripture where God and Christ are described with metaphors like, the way, the truth, the life, the bread of life, the healer, love, provision, peace, king of kings, prince of peace, lion of the tribe of Judah, captain of the hosts.  We can find scriptures where all of these words are used to reveal the nature of the Lord in the old testament and later of Christ.
Well imagine this, what if love spoke? what if bread of life spoke, what if the truth spoke in first person, separately and distinctly from being a description of Christ? Imagine how that would help us to understand Christ!
In fact, did you know that this has happened already in scripture? King Solomon wrote Proverbs chapter 8 as if wisdom were a person. Proverbs 8 was written as if wisdom were a separate and distinct individual and it is mind-blowing what he says if you take the time to study it.
Below is an excerpt from Proverbs 8 and from my manuscript, I am wisdom is a part of chapter 2, amazingly later we know that Jesus Christ becomes wisdom to us in 1 Corinthians 1:30.  So I think ascribing Proverbs 8 to Jesus Christ is not much of a stretch of scripture.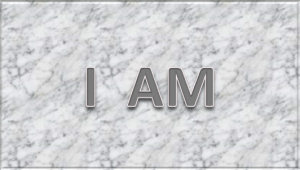 I AM… Wisdom

"To you o men, I call, and my voice is to the sons of men. O naïve ones, understand prudence; and o fools understand wisdom. Listen for I will speak noble things and the opening of my lips will reveal right things for my mouth will utter truth: and wickedness is an abomination to my lips all the utterances of my mouth are in righteousness there is nothing crooked or perverted in them. They are all straight forward to him who understands and right to those who find knowledge take my instruction and not silver and knowledge rather than choicest gold. For (I) wisdom is better than jewels and all desirable things cannot compare with her. I, wisdom dwell with prudence, and I find knowledge and discretion the fear of the Lord is to hate evil Pride and arrogance and the evil way and the perverted mouth, I hate. Counsel is mine and sound wisdom (is mine) I am understanding, power is mine. By me kings reign, and rulers decree justice.  By me princes rule and nobles all who judge rightly.  I love those who love me; and those who diligently seek me will find me. Riches and honor are with me, enduring wealth and righteousness. My fruit is better than gold, even pure gold, and my yield better than choicest silver I walk in the way of righteousness, in the midst of the paths of justice. To endow those who love me with wealth, that I may fill their treasures.

"The Lord possessed me at the beginning of his way, before his works of old.  From everlasting I was established, from the beginning from the earliest of times of the earth.  When there were no depths I was brought forth, when there were no springs abounding with water.  Before the mountains were settled, before the hills I was brought forth. While he had not yet made the earth and the fields nor the first dust of the world. When he established the heavens I was there when he inserted a circle on the face of the deep, when he made firm the skies above, when the springs of the deep became fixed, when he set for the sea its boundary so that the water would not transgress his command. When he marked out the foundations of the earth.  Then I was beside him as a master workman; and I was daily his delight, (the Lord delighted in this master workman) rejoicing always before him rejoicing in the world, his earth, and having my (wisdom) delight in the sons of men. Now therefore O sons, listen to me for blessed are they who keep my ways. Heed instruction and be wise, and do not neglect it. Blessed is the man who listens to me watching daily at my gates, waiting at my doorposts.  For he who finds me, finds life and obtains favor from the Lord. But he who sins against me injures himself; all those who hate me love death." Jesus Christ has become wisdom to us from God.  Supporting Verses: (Proverbs 8, Proverbs 3:1-3, 1 Cor 1:30 NASB)
IF you have any ideas about what I could name this book please comment below, also if you'd like to hear more about this book as it develops please join my email list.