Currently viewing the tag: "Jesus"
The Meaning of Seek First
to seek: VERB (seek meaning)
seeks (third person present) · sought (past tense) · sought (past participle) · seeking (present participle) attempt to find (something): "they came here to seek shelter from biting winter winds" synonyms: search for · try to find · look for · be on […]
Continue Reading

→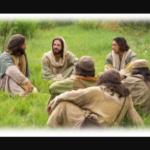 In January 2015 I began to intensely seek only Jesus Christ. I began to study him, to seek him early and constantly with intensity. It was the best thing I could have ever done, I have come to know him in a much greater way than ever before. Looking back I see this as a fixing of my […]
Continue Reading

→
Real loyalty to Jesus Christ is quite rare and typically provokes trouble.
"For our struggle is not against flesh and blood, but against the rulers, against the powers, against the world forces of this darkness. Against the spiritual forces of wickedness in the heavenly places." – Apostle Paul in Ephesians 6:12
Are You A Rebel?
Real […]
Continue Reading

→