Is That False Teaching or Is He Just Mistaken?
There is a difference between how we should react to false teaching vs. mistaken teachings in churches and ministries. A mistaken teaching is accidental with good intent, sincere before God. False teachings however are knowingly sinful. False teachings intentionally divide and try to make a fool of certain […]
Continue Reading

→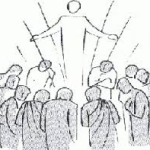 No Greater Waste
I can think of no greater waste of our time and opportunity here on earth than the following: To substitute the first-hand experience with Jesus Christ for the intellectual topic of Jesus Christ.
Its like having a birthday party for a person but not inviting the person. We talk about how wonderful the person is yet […]
Continue Reading

→
Worldly vs. Godly Loyalty noun: loyalty -a strong feeling of support or allegiance. Loyalty is allegiance or support to another person or institution. But I think there are two types of loyalties in life based on differing motivations.
Worldly loyalty is toward colleagues and friends and is based on desire to gain something in return, this allegiance is cheap and […]
Continue Reading

→