Part 2;
When God Hovered
Genesis 1:2 Now the earth was formless and empty, darkness was over the surface of the deep, and the Spirit of God was hovering over the waters.   And God said…
When God hovered over the waters in Genesis 1:2, he was looking for something, many theologians and the repeating pattern found from Genesis to Revelation point to the fact that he is looking for a place to dwell, a home, a universe to expand himself into.
The expansion of his family was the goal of God before he said "…let there be light", and this is the goal of God now.  Said in a different way… God's motive for creating everything and everyone that we see is to extend the mutual fellowship that the Father, the Son and the Spirit enjoyed.
Based on scripture this is the goal of God, this is the "meaning of life" if we can accept it.  The church made up of living stones is now God's dwelling place (1 Peter 2:5).  Not church buildings, not temples, not synogogue, not mosques but living people, sharing their lives together in the presence of God, Jesus said wherever two or more gather in my name, there am I in the midst, he dwells when his people gather together in the name of Christ. This doesn't mean those who simply say "in the name of Christ" after prayers, this means Christ is supreme in our motives, a sharing of life together, bringing to one another what Christ gives us (1 Cor 14:26). Just like a family.
This was the reason God sent Jesus Christ to redeem mankind from the hell we chose.  This is God's vision for His church, and we see in Acts that salvations result naturally when Christ is supreme in a body of people, when mutual fellowship occurs and when our motives are in alignment with God, his "buildings" grow all over the earth naturally.
Family-Life:
A family shares their lives together, a family sticks close to one another, a family faces trials and blessings together. There is no substitute for family-life.
Ever expansion of family is God's goal. I'm not necessarily saying the ever- expansion of genetic families, not necessarily expansion through biological reproduction, (we don't all need to be the Duggars)  But, the ever-expansion of God's presence on earth and I believe eventually throughout the universe.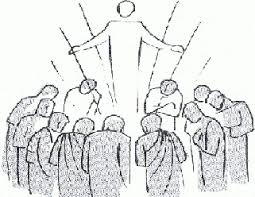 Healthy families share their lives together, everyone contributes, everyone has a role, everyone has their place, its not simply a following of the dad, its a mutual respect and love, expanding growing and multiplying.
Jesus said in Matthew 18:20 "For where two or three come together in my name, there am I with them."
God dwells in our mutual fellowship when we gather in his name, not when we gather in the name of a church, not when we gather it the name of a great denomination, not when we gather in the name of a great preacher or a great leader, but when we gather in his name.  Meaning Jesus Christ at the center-supreme in everyone's mind and motive. Not when we gather for noble efforts like giving to the poor, not even when we gather together to teach/ learn bible wisdom or to win souls but when we gather in the name of Jesus Christ and make him the object, the reason and our purpose.  All that other stuff are distracting (although good) side-issues that will happen naturally.
Gods purpose, his reason for creating us fascinates me, I think we should align ourselves with His intentions and purpose, in every area of life.