Currently viewing the category: "Modern Edits"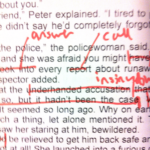 There are many passages of scripture explaining how Jesus met with his disciples and how the first century Christians gathered.
With this post I intend to compare modern church meetings to Christian meetings described in scripture. Not to shame anyone but to attempt to contrast and display just how ludicrous some of our modern traditions are in comparison.
This post series' message is to attempt to point to the pattern shown by […]
Continue Reading

→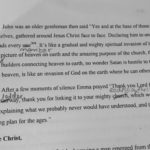 "Fixing our eyes on Jesus the author and perfecter of faith–Jesus, who, for the joy set before him endured the , despising the shame and has sat down at the right hand of the throne of God. – Hebrews‬ ‭12:2‬ NASB
I asked my teen daughter what she thought about Hebrews 12:2 and what she […]
Continue Reading

→
What if someone were writing more chapters to the book of Acts as they observed present day Christians?
"So they went on their way from the presence of the Council, rejoicing that they had been considered worthy to suffer shame for His name." – Acts‬ ‭5:41‬ ‭NASB‬‬
It seems things have changed with many of […]
Continue Reading

→